Markets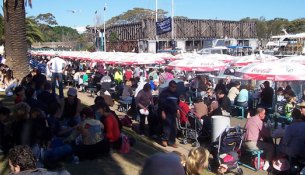 Welcome to our markets section of our website here you can get information regarding markets in your local area and updates of upcoming events.
What make our site so special, the owner of Imarkets understands how tuff the markets are whether online or physical location, being a stall holder for about 7 years, and operated across many Markets in Sydney has let to the creation of Imarkets.
Many stall holders have websites and that's great, but also acknowledge its hard enough to bring costumers in. Google advertising is a waist of time and money, yes really, for small business like yours at the markets,
Google will make you pay to be listed on the front page and you will need to keep paying them to stay there. As for organic search, google continue to change there search algorithm so your listing will continue to bury deeper and deeper into oblivion.
The average price for a google add will cost you around $50 a month to be on the first page. Once you stop paying you will no longer be visible on the first page.
 
The Solution is simple, Start selling on Imarkets. Imarkets does the advertising for you.
Cost effective, more exposure and best of all when listing an item for sale, list in a second category of the market location, your online presence will double.
Your stall will have 24/7 access to your costumers instead of the one or two days that you run your stall. Would/nt be great for your costumers to order online and pickup the next time they visit you at their local market, making custom orders a breeze.
Running a store here at Imarkets is relatively cheap depending on the store package you choose.
What you get is great service, an online presence 24/7, Advertising across many search engines, we do it for you, and the ability to showcase your goods and services in your store, and the promotion of your current web site. Not only will you have your local and loyal costumers coming back but will also increase your audience in Australia.
For our Market sellers if you have stall at a certain market that is not listed please contact and let us know the details and we will add it.
©2018 Imarkets.com.au
Imarkets Australia's Online Marketplace is a registered Trademark.